Duffle insert organizer,kit bag organizer ,felt bag insert oranizer,beige, FREE EXPRESS SHIPPING by SenamonBagOrganizer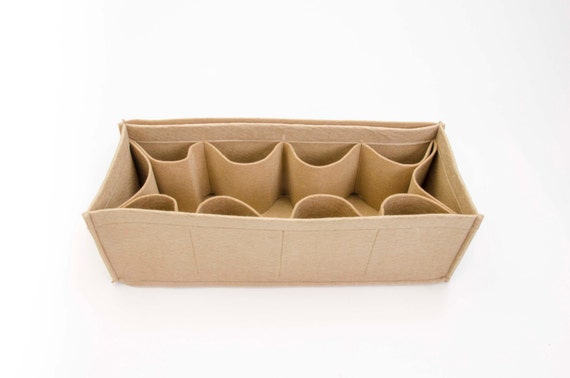 51.00 USD
Sturdy bag insert organizer and bag shaper with I pad holder and Notebook and Mac Book holder ( Not all styl sizes fits ,please check the sizes before you buy ) :
Are you busy and change all the thinks you have in your bag is leeway for you ? So is this bag insert organizer a perfect time saver for you. At same time your bag will always tidily.
You can see the picture that the organizer has a sturdy structure and can hold for examble a book on it .
You can use it als make up bag for your wallet, keys,diary, credit card, ticket or cell phone ....
Otherwise are the bag organizers sturdy bag shapers.
I do take custom order and I can make BAG ORGANZERS in different dimension or colors.
Please hand wash or gentle machine wash without wring .
The pocket sizes and measurement depending on the size of the organizer measurement, notwithstanding they have minimum 6 inside pockets (not expecting bottle holder/ round pockets ) !!!
Please note: actual color may vary from picture due to computer settings.

****************************************************************************
THE MEASUREMENTS BELLOW ARE BAG INSERT SIZES FOR DIFFERENT STYL BAGS .Please decide on your size:


*L. V Keepall 45 SIZE: L42 xH17 x W17 cm / L16.6" x H6,5" xW6.7"

* L. V Keepall 50 SIZE: L48cm xH18cm x W19cm /L18,8" x H7" xW7.5"

*L. V Keepall 55 SIZE: L52 x H18x W20 cm / L20.6" x H7" xW8"

*L. V Keepall 60 SIZE: L56 x H18 xW21 cm / L22.2" x H7"x W8.5"

Please hand wash or gentle machine wash without wring .